How is our climate changing? 
To plan for the impacts of climate change, we need to understand how the climate is likely to change.
A starting point is to dig into what we know as climate projections. These provide the best science available and give us insights into likely changes to temperature, precipitation, and sea level rise amongst other things.
The more we understand and plan for changes, the better placed we will be. It will help us move from a reactive to a proactive approach to management. Climate projections can provide insights that can be used in a vast range of ways, from informing design specifications to ensure products and materials are fit for purpose over their lifetime; through to strategy and policy development and making decisions on where we might want to live or move to.
 
From global to local climate projections
The Intergovernmental Panel on Climate Change (IPCC), the United Nations body for assessing the climate science, draws on an extensive range of global climate models for its reports. The latest report 'Climate Change 2021: The Physical Science Basis' to accompany the IPCC Sixth Assessment Report (AR6) was released in August 2021.
How we experience climate change varies across businesses, communities, and places. A localised view of projected changes can help with identifying key issues and opportunities and support business and community preparedness.
In Aotearoa New Zealand, the National Institute of Water and Atmospheric Research Ltd (NIWA) has adapted these global climate models to a resolution useful for local scale analysis. Due to the volume of work required, there is a time lag with local projections – now not expected until 2024/25.
From interim guidance commissioned by the Ministry for the Environment, we know that the localised models based on the previous AR5 can be used with reasonable confidence as AR6 will not fundamentally change the existing projections.
For an explainer on the IPCC work and its findings visit: https://eciu.net/analysis/infographics/ipcc-science-of-climate-change
Localised climate projections for Tamaki Makaurau Auckland
Auckland is one of several regions across Aotearoa New Zealand that has commissioned reports on localised climate projections, along with associated mapping.
Climate projections for Auckland (PDF, 1.22 MB) prepared by NIWA .
Temperature Changes
The Tāmaki Makaurau region is expected to become warmer. Over the last 100 years, Auckland's mean annual temperature has increased by about 1.6 degrees Celsius. It is projected to increase between 1.5 and 3.75 degrees Celsius by 2100, depending on the pace of global emissions reductions.
This means that we are likely to have four times as many 'hot days' per year: 80 days above 25 degrees Celsius, compared to 20 days currently. It also increases the probability of more extreme weather events such as droughts, storms and heavy rain.
1.6°C 
1.5°C - 3.75°C
Four times as many days over 25°C

Approximate increase in Auckland's mean
annual temperature in the past century 

Projected further increase over the
course of the next century

From 20 to 80 days per year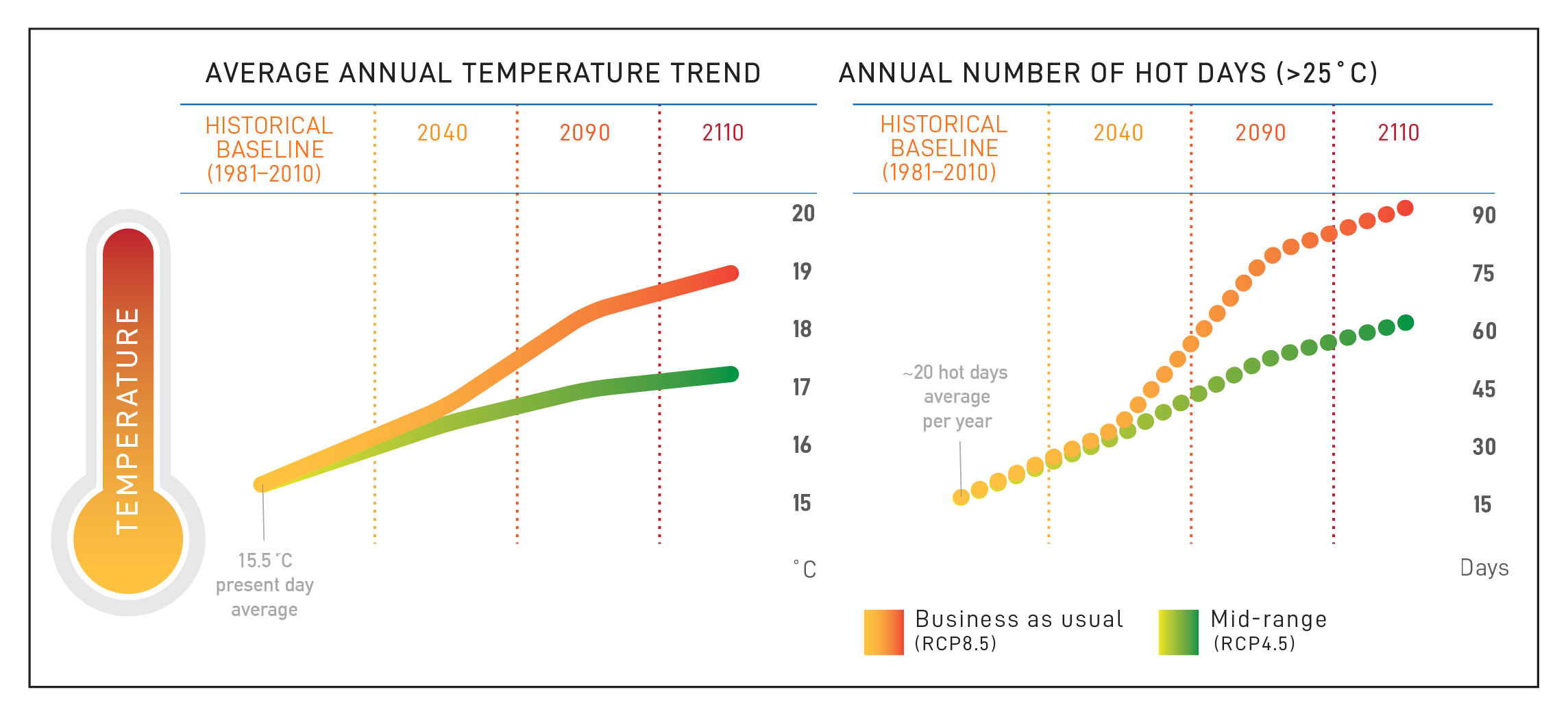 Rainfall Changes
Increasing temperatures affect our water cycle. Rainfall in spring is likely to decrease by 15 per cent in some parts of the region, adding more than 21 dry days per year by 2110. Drier periods will bring water shortages for residential, agricultural, and industrial use.
That said, rainfall intensity is projected to increase because a hotter atmosphere can hold more moisture. The intensity of short-duration events is projected to increase by 14 per cent per degree of warming.
It's not difficult to imagine that this could increase the frequency and intensity of flooding, affecting our infrastructure, properties, health, and safety, as well the local economy.
| 15% decrease in spring rainfall | 21 more dry days | 14% more intense rainfall (per degree of warming) |
| --- | --- | --- |
| Across parts of the Tāmaki Makaurau region | Per year by 2110 | Resulting in more significant flooding events |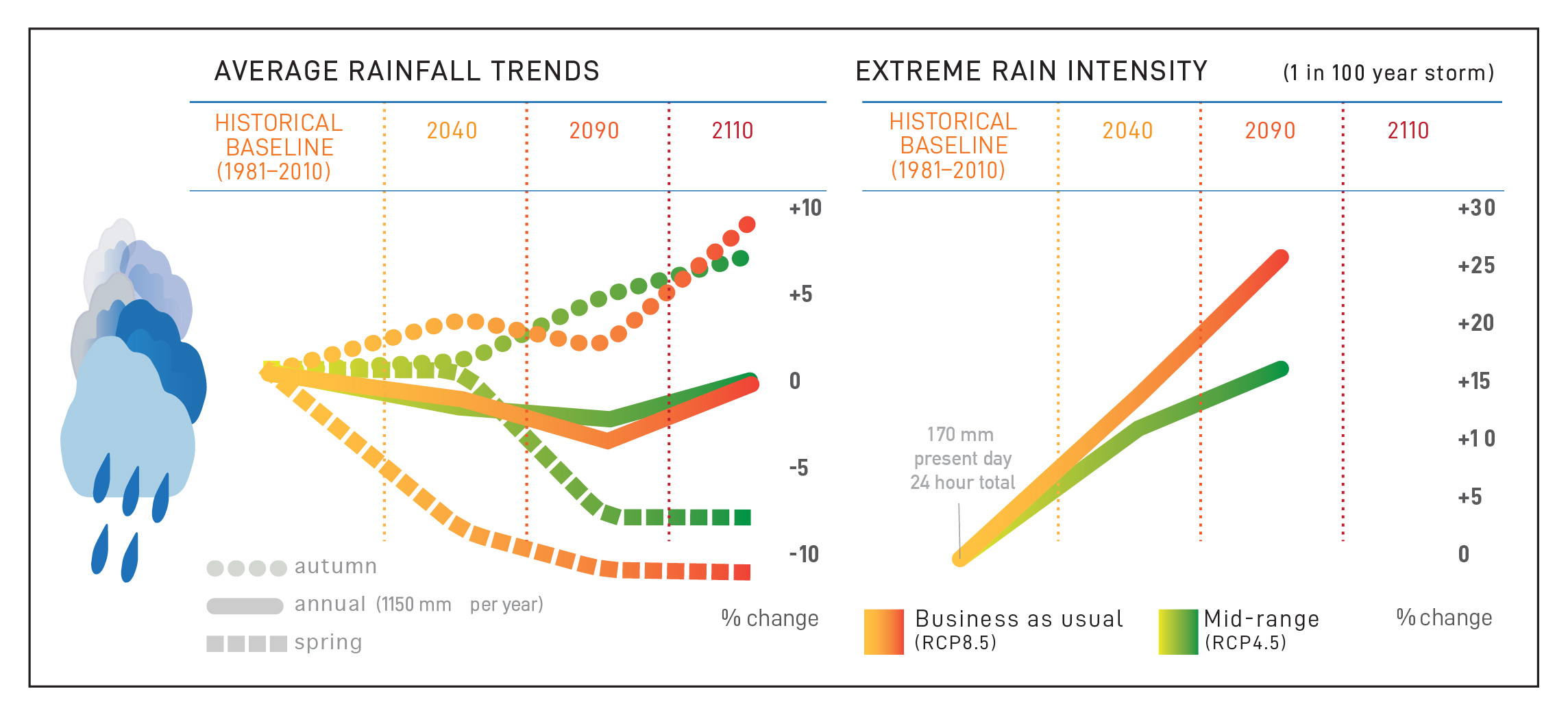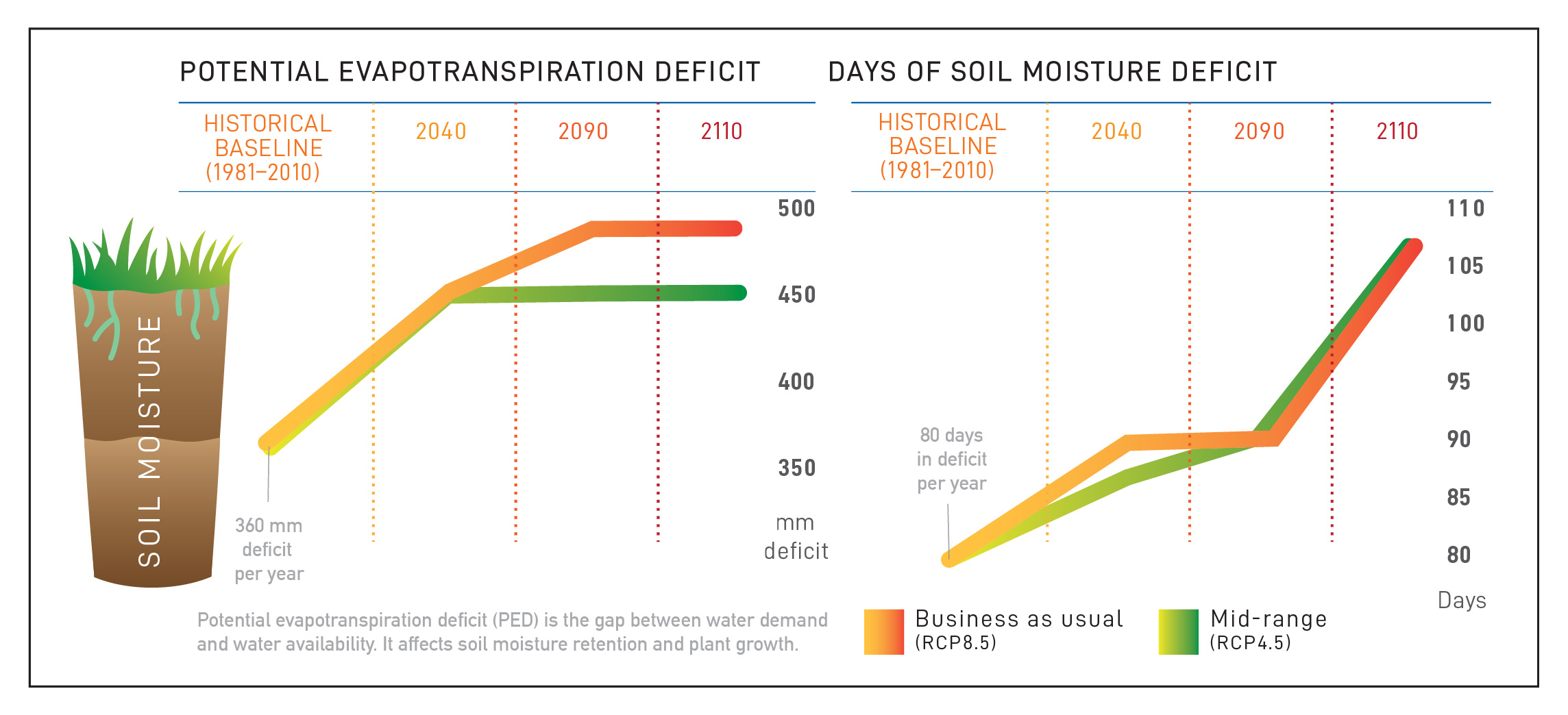 Marine and Coastal Changes
Sea level rise is already underway in our region. If global emissions stay unchecked, they are projected to rise by a metre by the end of this century.
We also know that melting of glaciers and ice sheet is accelerating, so the change could be even greater. In a region with 3200km of coastline, this poses threats of coastal erosion, storm surges and flooding.
Before the end of this century, approximately 1.5 -2.5 per cent of Auckland's land area may be exposed to sea level rise. This covers 0.3 per cent of buildings, 80 per cent of coastal ecosystems and six per cent of dairy land.
Low lying coastal towns and infrastructure will be more exposed to coastal inundation and flooding with storm surges.
Marine ecosystems are highly susceptible to climate change. Ocean acidification will threaten the condition and survival of some marine species. A rise in ocean temperatures will see species move to different places and other changes to ecosystems and kai moana.
1.5% - 2.5% of Tāmaki Mākaurau

80% of coastal systems 

6% of productive dairy land 
 
Exposed to sea level rise by the end of the century

Exposed to sea level rise by the end of the century

Exposed to sea level rise by the end of the century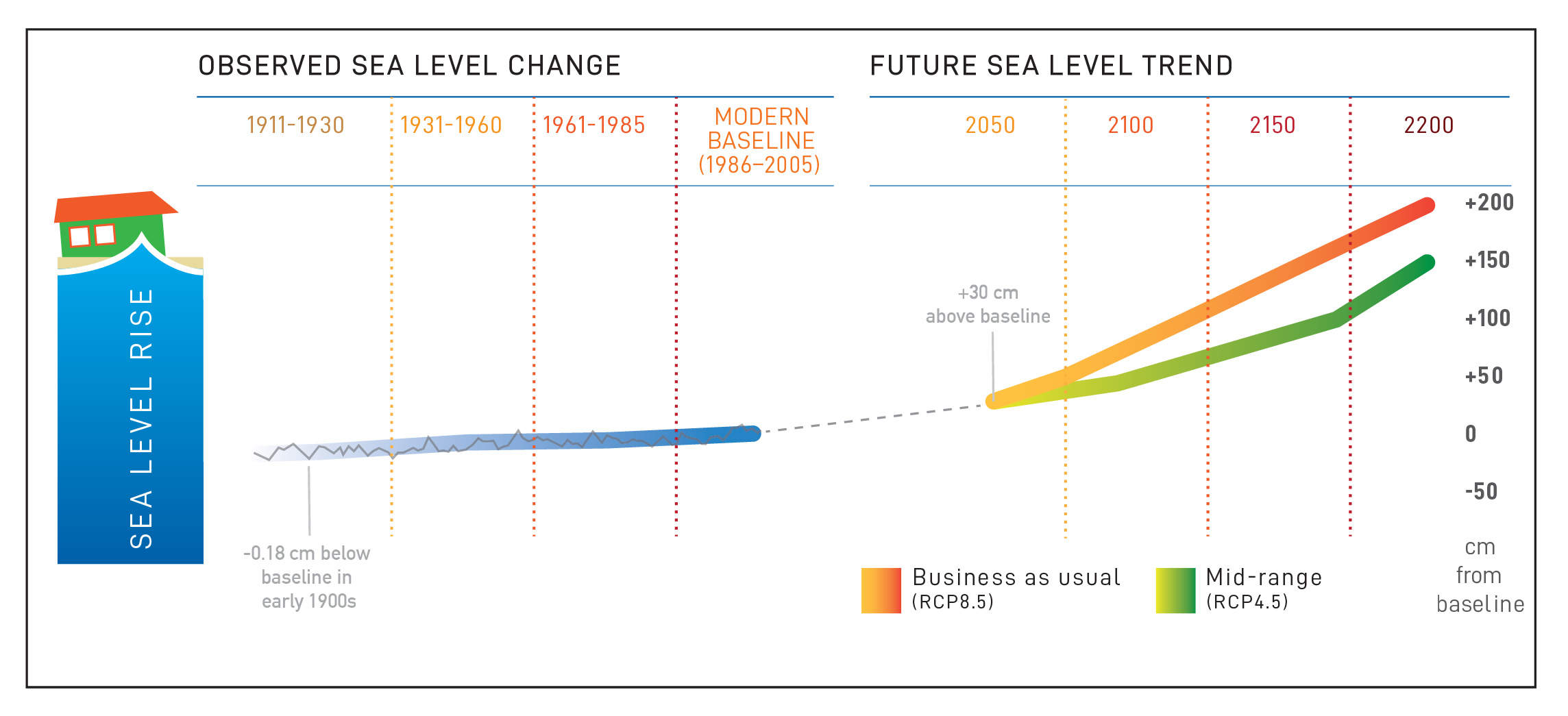 Other Combined Effects
Auckland already faces a range of challenges with population growth, changes in land use, changes to food and energy security, and rising inequality. Climate change may make many of these challenges more difficult to solve or may make related impacts on people and communities even more severe. For example, the effect on Māori  could be profound.
What's more, climate change is not isolated to this region. Our economy and food security are tied to international supply chains that are increasingly susceptible to climate-related impacts. Migration related to climate is already happening across the world. Auckland will need to be part of the solution to support these displaced people.
The challenge that climate change brings involves us all. Understanding its affects is the first step to making choices as to how we address the implications and when.
Climate Connect Aotearoa will provide more information on how projections can be used to inform adaptation planning through our Challenges programme and via the Knowledge Hub. Subscribe to our newsletter for future updates.
Find Out More: