Climate Connect Aotearoa exists to help the transition to a climate resilient and low-carbon Tāmaki Makaurau Auckland and Aotearoa New Zealand.  To ensure that our work is making the impact it needs to, we commissioned the Ākina Foundation (Ākina) to work with us in creating an impact measurement model that will inform our actions and programme of work.
What is an Impact Model?
"An impact model is a framework that sets out the activities you undertake, the outcomes they lead to, and the ultimate impact that then happens. It demonstrates how change happens, through communicating a compelling logic that if a certain activity happens, certain impact will result."  
An impact model teases out the clear and logical connections between activities being undertaken, desired outcomes leading to impact, and the indicators or measures which will show how that process is tracking. The results of the indicators should further inform the purpose and activities, so an impact model should be evolutionary as lessons are discovered and incorporated back into the model. Ākina calls this an 'impact management approach' to maximise impact.  
After a period of measurement, impact and ongoing results are an effective way of communicating value to stakeholders. 
Climate Connect Aotearoa's Impact Model
Climate Connect Aotearoa will be measuring impact in three key areas of focus: 
Connecting demand-led challenges to scalable solutions 

Growing a climate innovation ecosystem where people come together to innovate 

Building system-wide knowledge and capacity, for innovation and action. 
These three focus areas are represented in green, pink and blue in the diagram below.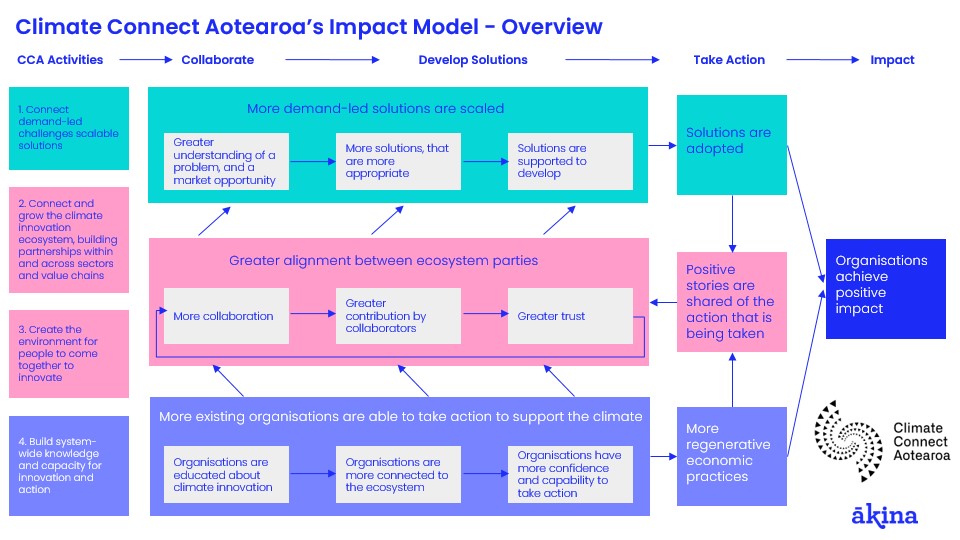 A set of indicators has been identified to measure the outcomes and impact we want to see. Tracking these will tell us if we are on the right path and provide feedback into the model for continuous improvement. Over time, we will be publicly sharing progress on these indicators. We will also share our learning as we go and build this into our mahi. 
Climate Connect Aotearoa's success is in others' success: when we help organisations take steps towards positive climate action. Our activities must lead to solutions being adopted by other organisations, the system-wide application of climate action, and the adoption of regenerative economic practices across climate innovation ecosystem.  
This ultimately means that other organisations that we work with, or are connected to, will have a positive impact too - the key outcome Climate Connect Aotearoa exists for.