Helping small to medium enterprises in Tāmaki Makaurau Auckland overcome common obstacles to sustainable, low-carbon energy.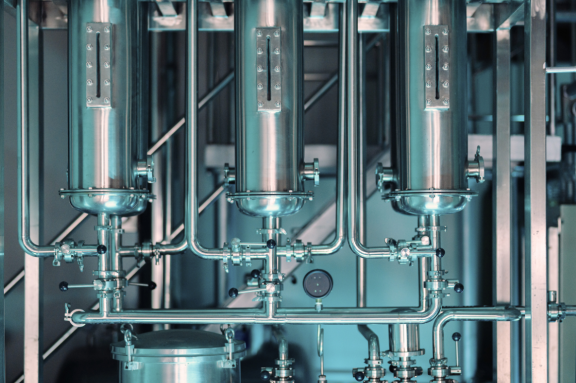 If you are an Auckland business that generates heat – whether it's roasting coffee, growing hothouse veggies, keeping a community centre warm in winter – you can actively help the region transition from fossil fuels to sustainable energy, reduce New Zealand's greenhouse gas (GHG) emissions and cut your business's energy costs at the same time. 
The government is committed to a 2050 net-zero goal for all GHG emissions (except biogenic methane) and several initiatives currently exist to help businesses decarbonise. Since these initiatives tend to favour larger corporations rather than small to medium enterprises (SMEs), Climate Connect Aotearoa commissioned a report from energy systems experts, Open Pinch Consulting on barriers and opportunities for Auckland SMEs in process heat decarbonisation. This is a summary of the report.  
Auckland's emissions: the current situation 
Regionwide, industrial processes emit some 1.36 million metric tonnes of CO2-eq annually, most of it from burning natural gas.
Delivering the region's climate goals, as laid out in Te Tāruke-ā-Tāwhiri: Auckland's Climate Plan, will require businesses to urgently transition to energy-efficient practices and low-carbon energy sources. 
Current national policy and action 
Through supportive initiatives, funding and new legislation, the government has been using what's commonly known as a 'carrot and stick' approach to advance decarbonisation. The following key programmes are currently under way, however the recent change in government will likely result in changes to programmes and policies. Climate Connect Aotearoa will review and update this once these become clear. 
Energy Efficiency and Conservation Authority initiatives 
The Energy Efficiency and Conservation Authority (EECA) administers a raft of initiatives to promote energy efficiency and reduce emissions: 
Sector-specific decarbonisation pathways – created for SMEs, ranging from commercial buildings, hotels, aged care and retirement living to coffee, brewing and viticulture. EECA regularly adds new sectors to the scheme. 
Energy Transition Accelerator (ETA) – offers energy assessments and strategic sustainability guidance. The high cost of assessment makes it suitable for large corporations, rather than SMEs.  
Regional Energy Transition Accelerator (RETA) – providing regional profiling of energy factors such as fuel supply, or electrical infrastructure capacity. This scheme is better suited to medium and large-scale businesses. So far, EECA has profiled three regions: West Coast, Mid-South Canterbury and Southland. 
Government Investment in Decarbonising Industry 
The $650 million Government Investment in Decarbonising Industry (GIDI) fund helps businesses to fast-track decarbonisation projects by providing up to 50 per cent of costs, so long as the business can prove the project depends on the funding and will be substantially effective. It is important to note that the new government are proposing a change or halt to GIDI, so the below is based on current processes. Climate Connect Aotearoa will update this section of the report once next steps become clear.
GIDI operates five critical pathways:  
Industrial – supporting the transition to clean energy in medium to large businesses. 
Partnerships – engaging in long-term partnerships with large energy users to help them transition to clean, smart energy. 
Commercial buildings – supporting commercial building owners and tenants in the transition to clean energy for heating water and space.  
Clean tech – supporting SMEs in their transition to energy-efficient, low-carbon technologies and processes, to help reduce New Zealand's emissions but also to unlock long-run cost savings for the SMEs.  
Infrastructure – co-funding electricity and distribution upgrades that aid the transition to net zero.  
Emissions Trading Scheme  
Established 2008, the Emissions Trading Scheme (ETS) obliges large emitters to buy and surrender carbon units as offsets. The scheme applies to industrial processes, liquid fossil fuels, stationary energy, waste, synthetic gases, and some forestry activities. Proceeds from the ETS support the GIDI fund. 
Available solutions and technologies  
Most SMEs will find optimal sustainable energy solutions through a unique approach using various technologies already on the market. There is no 'one size fits all' answer.  
Whatever your line of business, a cost-effective first step is to conduct an audit of your activities to understand your energy needs, costs and trends. The next step is to implement energy efficiency measures: trimming energy consumption will reduce overheads, at no cost to productivity or quality. 
Implementing an energy monitoring system will enable you to gather data, gain insights and make informed decisions. An energy management system is the first logical step to identifying energy waste and adopting more sustainable day-to-day electrical usage patterns. It will also help you to identify appropriate low-carbon technologies to suit your needs, and estimate upfront costs and long-term savings.  
Upgrading to more energy-efficient appliances and equipment can yield substantial energy savings over the lifetime of the assets. For example: 
Installing energy-efficient lighting can substantially lower electricity usage over the long term. 
Insulating spaces and pipes reduces heat loss and conserves energy. 
Implementing low-cost measures to recover and recycle waste heat can conserve energy. For example, waste heat from one site can be repurposed on a neighbouring site. 
Sustainable energy technologies 
To meet low to medium temperature heating needs, businesses have several technology choices to replace existing systems and boilers fuelled by gas or coal such as: heat pumps, electric/electrode hot water systems, and biomass boilers. All are widely available in New Zealand. Also discussed below is the demand-response, energy strategy. 
Heat pumps – heat pumps utilise heat transfer technology to heat or cool space or water. They are cost-effective to run on account of their high efficiency. Heat pump types include heating, ventilation and air conditioning (HVAC) units, commercial hot water heaters (40–60°C), industrial heat pumps (40–90°C) and transcritical CO₂ heat pumps (40–90°C). Through the Hot Water Heat Pumps Programme in its Clean Tech pathway, GIDI offers grants to help businesses switch over to heat pumps.  
Electric hot water systems – electric water heaters are relatively compact but are less efficient than heat pumps and costlier to run. Electrode boilers (where water is heated by direct electrical contact or by an immersion element) generate steam and/or hot water. Both systems suit commercial and industrial applications. With efficiency typically more than 98 per cent, they produce no emissions and their rapid operation make them suited to demand–response and interruptible load opportunities (see below). 
Biomass boilers – these water heaters run on organic fuel – typically plant or timber waste, ideally from sustainable plantations. They are reliable and versatile but some caveats apply: fuel must be transported in and stored in bulk onsite, and particulate emissions from burnt biomass must be carefully managed. This tends to suit businesses producing organic waste, so they can establish a reliable local supply to meet their heating needs.  
Demand–response – by leveraging electricity tariffs, an electricity supplier can incentivise consumers to schedule usage away from the hours when electricity is in peak demand or restricted supply. This leads to a more stable grid and avoids potential outages. Similarly, interruptible load involves cutting power supply to specific consumers, at agreed times, to stabilise the grid. 
Demand–response and interruptible load can benefit SME in many ways. They can lead to lower-cost energy and service providers can offer energy monitoring tools and insights. By aligning with the Auckland region's sustainability goals, businesses in turn enhance their brand reputation.  
Other options – Additional technologies include:
a) thermal storage – helping businesses generate heat during off-peak hours and storing it
b) electrification of process technologies
c) onsite renewable electricity systems, such as solar, wind or hydro.
These are generally considered supplementary, rather than stand-alone options.  
Barriers to uptake and solutions 
The table presents four common technical and non-technical barriers to decarbonisation uptake among SME and some viable solutions towards capability-building.  
Barrier 

Potential solutions 

1. Limited in-house technical expertise, and limited access to information  

 

Consider forming sector-based decarbonisation consortiums to share technical expertise, case studies, etc. Approach government agencies, such as EECA, for similar sharing opportunities. 

SME could consider energy-as-a-service (EaaS). They pay for the service, and the energy provider handles the rest, from installation and operation to maintenance and upgrades. 

2. Electrical infrastructure is insufficient for broad uptake 

Electric heating technologies are usually the most practicable replacement technology; discuss with your electricity provider. In the longer term, collaboration between public–private entities on future-proofing the grid, and investment in smart tech and greater electricity supply capacity (along with a new planning and regulatory framework), will accelerate the pace of decarbonisation.  

3. Financial constraints (relating to both analysis and acquisition of new technologies) 

Co-funding is available through GIDI; Ara Ake provides support and funding to energy innovators; and New Zealand Green Investment Finance (NZGIF) helps to accelerate investment in the country's low-carbon future.   

4. Company culture of resistance to change 

Sector-based consortiums (see also solution 1) could provide awareness and education programmes, with webinars, workshops, site visits, etc., to showcase successful transitions and help overcome resistance.   
Case studies 
Rainbow Park Nurseries  
Drury-based Rainbow Park Nurseries, which received $800,000 of co-funding in the July 2023 Round Five of the GIDI fund, is replacing its natural gas boiler with heat pumps to warm its commercial glasshouses. Rainbow Park is the first nursery in New Zealand to adopt heat pump power, and the upgrade will reduce the company's annual CO2 emissions by around 95 per cent, and provide long-term certainty on energy costs. General Manager Andrew Tayler confirmed the GIDI fund helped bring the project forward by at least five years.  
Kōkako Organic Coffee Roasters  
Auckland-based coffee roaster Kōkako began measuring its carbon emissions in 2015, with support from the Fair Climate Fund, and released its first sustainability report the following year. Managing Director Mike Murphy explains that learning about emissions, and connecting with the EECA Coffee Decarbonisation Pathway, led the way to a sustainability strategy, which for Kōkako has involved measures such as installing low-emission lightbulbs, phasing in a low-carbon vehicle fleet, switching to a more sustainable electricity provider and buying carbon offsets. Positive outcomes include lower operating expenses and higher brand loyalty from customers. Kōkako shares its learnings with other coffee roasters to help decarbonise the industry in New Zealand.  
Key recommendations 
The Open Pinch report makes several key recommendations for SME:
Get informed. Connect with sector-specific consortiums and industry bodies, such as other businesses are often willing to share information and learnings.  
Improve your energy efficiency. This is a critical first step that begins with accurate metering and understanding, helping to reduce your current energy demands and in turn, the scale and cost of future decarbonisation projects.  
When you are ready to transition to low-carbon energy, heat pumps, electric/electrode boilers and biomass boilers are critical options for consideration.
Explore funding opportunities. 
Moving forward with Climate Connect Aotearoa 
Climate Connect Aotearoa plans to hold a workshop early in 2024 to bring SMEs together to raise awareness about the financial support available for process heat decarbonisation and to look at opportunities to take forward the report's recommendations. If you'd like to attend, please get in touch.