If Aotearoa New Zealand is to meet its 50 per cent emissions reduction goal by 2030, Tāmaki Makaurau Auckland needs to be leading the charge, and food is one of our focus sectors. We speak to Lauren Simpson, Food Priority Lead at Auckland Council's Chief Sustainability Office and partner in the Climate Connect Aotearoa Food Challenge, about recent activity. 
A focus on food 
Why is our food system a priority in Te Tāruke-ā-Tāwhiri: Auckland's Climate Plan? 
The impact of food on our climate is enormous. Globally, emissions from the food system represent around 30 per cent of the total. In New Zealand, household food emissions are the second highest emissions from homes. And our food production is vulnerable to the impacts of climate change. We've had food scarcity and price increases following the extreme weather events at the start of this year. Add that to the risk of drought and water shortages, and food security is a crucial issue as our climate changes.  
How vulnerable is Auckland's food sector? 
We have such a large population in Auckland, which is reliant not just on locally produced food, but also on produce from other parts of Aotearoa New Zealand and around the world. So we're not only vulnerable to the effects of climate change on our regional food production, but also exposed to far wider geographical risk. In January, Cyclone Gabrielle caused shortages of leafy greens and kūmara, and that's not the first time vegetable shortages have followed extreme weather in New Zealand. 
What is a food desert and why are they a problem for Tāmaki Makaurau Auckland? 
The extent of food deserts and food swamps in Auckland came as a surprise to me. You get a food desert when a community has poor access to good, nutritious food, and food swamps when communities have good access to poor-quality (highly processed) food. It's particularly a problem in south Auckland, but other parts of the city are also affected. The causes of food deserts are complex but they typically occur in lower socio-economic communities where supermarkets are more sparsely located and car dependency is high. 
How is Te Tāruke-ā-Tāwhiri: Auckland's Climate Plan focusing on food? 
We're looking at some key areas, like protecting the soil so we can keep producing food for future generations. We also want to support food businesses to reduce emissions and build resilience – that helps contribute to longer-term food security. Waste to landfill is a big issue: we want to limit it, and we also want to reap value from unavoidable waste, through practices like composting food scraps. We also put high importance on changing food consumption behaviours, and boosting demand for sustainably produced food.  
Changing behaviour 
How can businesses and stakeholders be encouraged to get on board with these changes? 
Sustainable food practices can be good economically for a business's bottom line. For instance, food waste disposal is getting more expensive, so if you can reduce your waste to landfill, there's an economic benefit.  
We want to help growers, suppliers and stakeholders to shorten supply chains – connecting suppliers and the consumer more directly. That generally means fairer pay for producers and more affordable (and fresher) food for consumers. This includes arming farmers with more knowledge, to give them the confidence to trial new farming methods and business models. We can also increase food literacy, so people understand how their purchasing power affects the climate and environment.  
Are businesses and food producers open to changing their practices? 
Yes, I believe they are. I think the tide is turning and more and more businesses are thinking sustainably, for instance reducing their waste. Even the big supermarkets are diverting much more of their organic waste from landfill. We're also seeing a shift in what's being sold on the shelves and how it's displayed, such as "ugly" vegetables and confectionary-free checkouts. So there's definitely movement. 
How can Aucklanders play their part? 
Consumers have a really big role to play in transitioning to a climate-friendly food system. You can grow your own food at home and get involved in local community gardens. This reduces transport emissions and also ensures that you're getting fresh, healthy food. Also, eat more plant-based meals. That doesn't mean moving away from meat entirely; it just means adding a few more plant-based options to your diet each week. Support your local producers and ask questions about where your food is produced. Where possible, purchase food that's produced more regeneratively, with less synthetic inputs. Finally, get on board with the ugly food movement and support supermarkets and other distributors to sell it.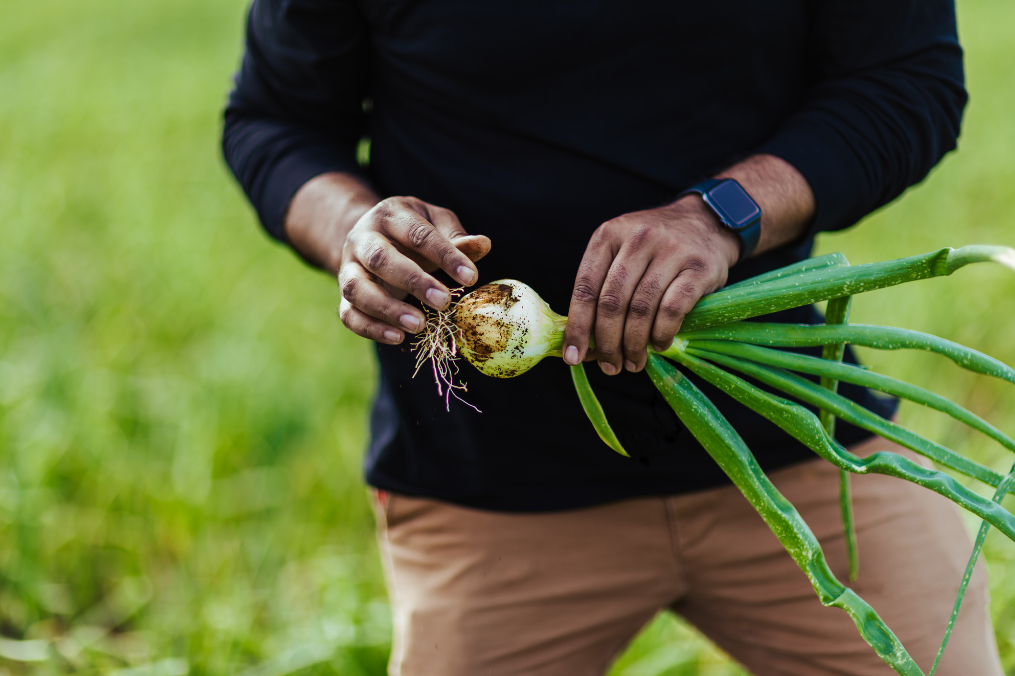 A food sector vision for Tāmaki Makaurau Auckland 
What does a sustainable food system look like in Tāmaki Makaurau Auckland?  
It means more equitable access to good food for everyone, both physically and economically – breaking down those barriers. On the flip side, food production needs to be made more profitable for the farmers too, so they're making better returns and making the most of resources. We need to support our small to medium growers, who are really struggling to compete in the current market. We want to connect our consumers and producers more directly – with food markets and direct selling online. We want to see food production hand-in-hand with healthy soils and streams that support thriving ecosystems. And it would be wonderful to see a shift toward a more plant-based diet. 
Do urban farms play a part? 
Absolutely. There's been quite a movement in urban farming and community gardens in Auckland. One of them is the organic market farm on Symonds Street, which is using land owned by Auckland Transport, and will be a part of City Rail Link at some point. It's a really small site, but they're managing to produce enough food there to fund paid staff, which is fantastic. So they're creating jobs, producing really healthy, sustainable food regeneratively, and selling veggie boxes to the local community. There's also Kelmarna Gardens, over in Ponsonby. They do a similar thing – they sell to local communities and produce food regeneratively. Urban farms give people in cities more options and more control over what they eat and where they buy from.  
Are these changes in Auckland's food system making a difference? 
There has definitely been a shift, but things need to happen faster. If we don't make a transformational change, then we are going to see greater impacts on food security from the effects of climate change, whether that be drought, floods or pests and diseases. Plus, our workers outdoors will be exposed to higher temperatures – that's already affecting people overseas. We will see increasing food prices, which will impact the equity of access to healthy food. It will be an exacerbation of the problems that we're already seeing. But now – in 2023 – we still have the power to change that.  
The Food Challenge 
Climate Connect Aotearoa is gearing up to launch our inaugural Food Challenge. We are partnering with sector and community stakeholders to investigate how, together, we can promote the adoption of innovative and scalable growing practices, technologies and business opportunities. Our goal is to enhance both the supply and demand for local, seasonal and low-carbon food. 
Want to get involved?